Better notes, more actionable meetings.
Meetings makes it easier for you to document who was there, what was said, and what needs to happen next.
Record, retain, recall
Title your meetings, adjust date and time, add attendees, take notes, and create action items. Everything is searchable so you can find meetings relevant to status or HR or just the meetings that Emma Avery attended or was mentioned.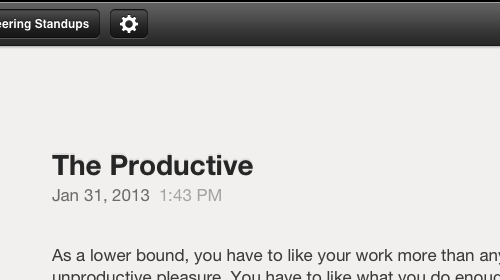 Follow the action
The tasks overview screen lets you see all action items, grouped by project or by due date. It's an easy way to see what needs to be done. You can also select multiple tasks and email them.
He said, she said
Add attendees from your address book. While typing notes you can access and insert attendee names directly into the document with a tap. Imagine meeting notes that read like a screenplay.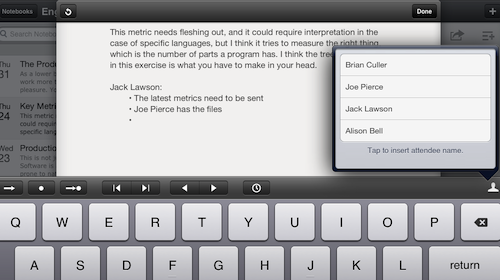 Share with the team
Email or print a copy of your notes. There's a button to send-to-attendees if you need it. Draft an agenda, add attendees, and email it to them for preview. After the meeting, you can send everyone a copy of the meeting notes and action items. Your coworkers can import a .meeting file and have their own copy of the notes too.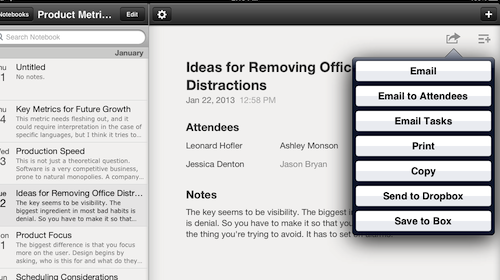 What to do
It's easy to add action items, one after another. If you need to update a task with notes, a due date, or assign it to someone, you can do that with a tap. Individual tasks can be sent by email.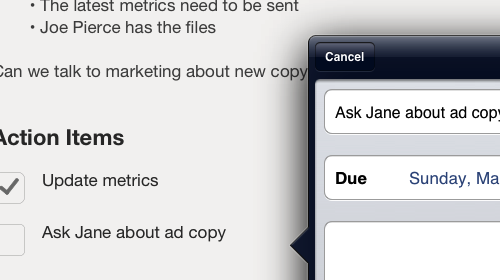 Worth a thousand words
Take pictures of whiteboards, notes, and handouts. Import existing photos. Tap or flick them into fullscreen for easy review.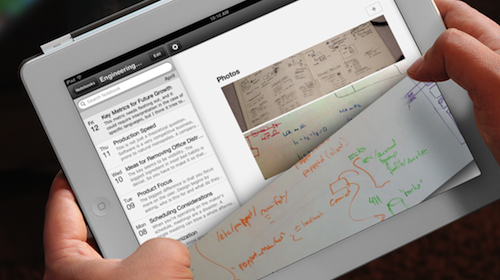 Notebooks for work
Your notes are written in notebooks that you can name and reorder. Group notes by project, client, department, key issues, etc.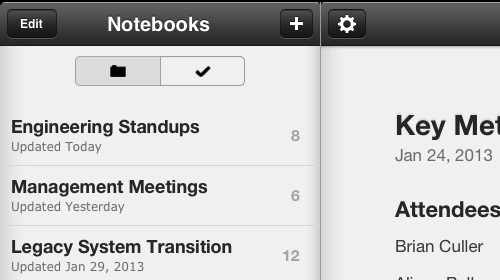 Make a good impression
Maybe it's your job to take detailed notes, or maybe you're just organized. Having a record to refer to and send out will help you get the recognition you deserve.
Simple by default
A new meeting document starts with a title and your notes. Show or hide content sections as you wish. If all you want is notes, hide the title. If you want attendees or a tasks section, add it.
Soft and easy
A pleasant interface. A couple buttons. Most of the interface is yours to fill.
Less waste
Structured notes help you focus on key decisions and actionable next steps.
General
Fast search with contextual snippets
Title, attendees, notes, and task sections
Add attendees from your contacts
Uncheck those that missed the meeting
Create agenda items for the meeting
Assign tasks to attendees, contacts
Add due dates and notes to tasks
Reorder and delete action items
See tasks from all projects
Filter tasks by notebook, due date, or just show incomplete ones
Ability to rename default section titles
Multiple notebooks
Automatic Dropbox backup
iTunes File Sharing for backups
Create follow-up meeting from existing
Create a Calendar event for a meeting
Fully updated for

iOS

7 and up
Taking Notes
Extended keyboard buttons
Autoindenting bullet lists
Move cursor by word or character
Insert attendee name with a tap
Insert agenda item titles into your notes
Timestamp button inserts current time
Create tasks by selecting text
Notes autosave periodically
Full undo and redo support
Works great with bluetooth keyboards
Sharing
Email an agenda prior to the meeting
Coworkers can import .meeting files
Send notes as HTML
Include .pdf and .txt versions
Copy notes as text, paste elsewhere
Send a PDF to your Dropbox
Save minutes to Box, Drive, Evernote, GoodReader, and many other apps
Email action items
Support for printing
Optional passcode lock protection
Optional company logo in PDF export