How to backup and import in Chronicle
15 January 2015
Though Chronicle looks different than it did several years ago, it still allows you to export and import backup files so you never lose your data.
Backup All Entries
To backup all entries at once, tap the settings gear and then tap the Backup All Entries button. The app will begin writing a backup file to the Documents area of your device. When the file is written, the app presents a menu that lets you save the backup file to another app on your device. You should see storage-related apps appear; for example, Dropbox, Box, or Google Drive.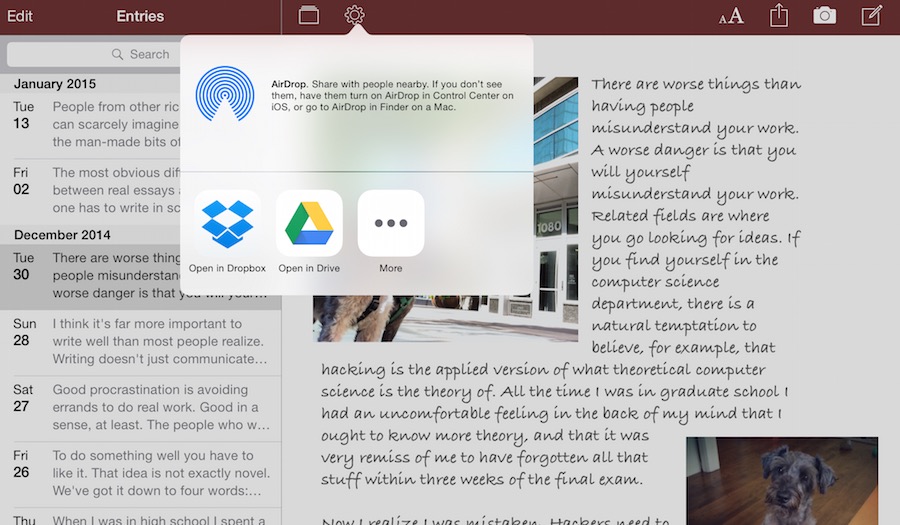 If you don't want to save the file to another app, tap outside the menu to dismiss it. You can connect your device to your computer and open iTunes File Sharing to save the file to your computer. Learn more about that below.
Backup Selected Entries
If you want to backup some entries, you can. This is is useful for moving entries to another device or moving some entries into another notebook.
To create the backup, tap Edit in the entries list. Tap to select the entries you're interested in. Finally, tap the export/share icon to generate the backup. Chronicle again presents a menu of system-supported ways of exporting the backup file. You'll need an app capable of opening generic data archives installed on your device (for example, Dropbox or Google Drive).
Backup All Notebooks and Journals
If you have the Notebooks add-on installed, you can tap the notebooks icon on the top toolbar to get to the notebooks screen. Tap Select to select the notebook(s) you want to backup. Finally, tap the export/share icon to generate the backup file.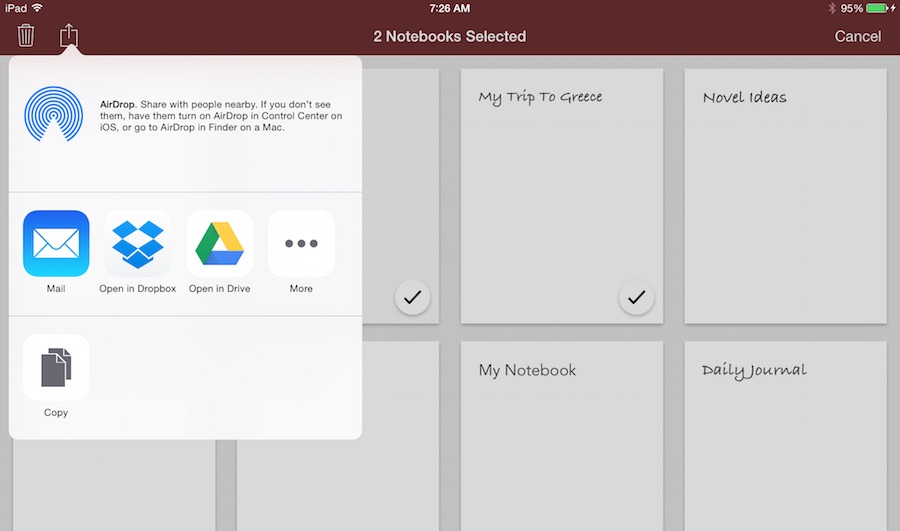 iTunes File Sharing
Some apps have a documents area that they share so you can access files. To get to this area, connect your device to your computer and open iTunes. Select the device icon to pick your device, then click on Apps in the sidebar. Scroll to the bottom of this window to get to the File Sharing area.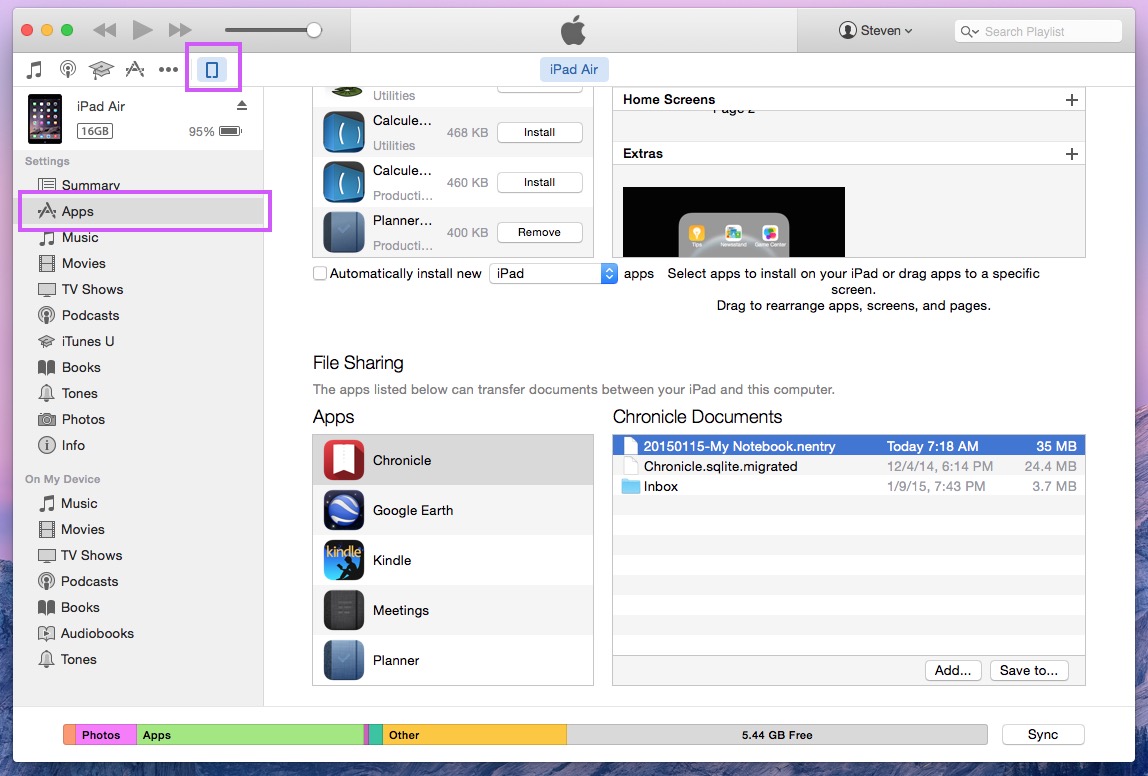 If you didn't save your backups to another app as described above, you should see your backups in the app documents list. Backups containing one or more entries end in .nentry and backups containing notebooks end with .nbackup. You can drag these to your computer for safekeeping.
Importing Backups
To import a backup file you rely on the "Open In..." functionality of iOS and pick Chronicle to open the file. If you saved your backup to Dropbox, you can open the Dropbox app and browse for the file. Then tap the export/share icon. You should see several options, including "Open In...". Tap that and you'll see a menu with apps capable of opening the file. Currently only Chronicle can actually open .nentry, .nbackup, and .backup files, though other apps may show up in your list.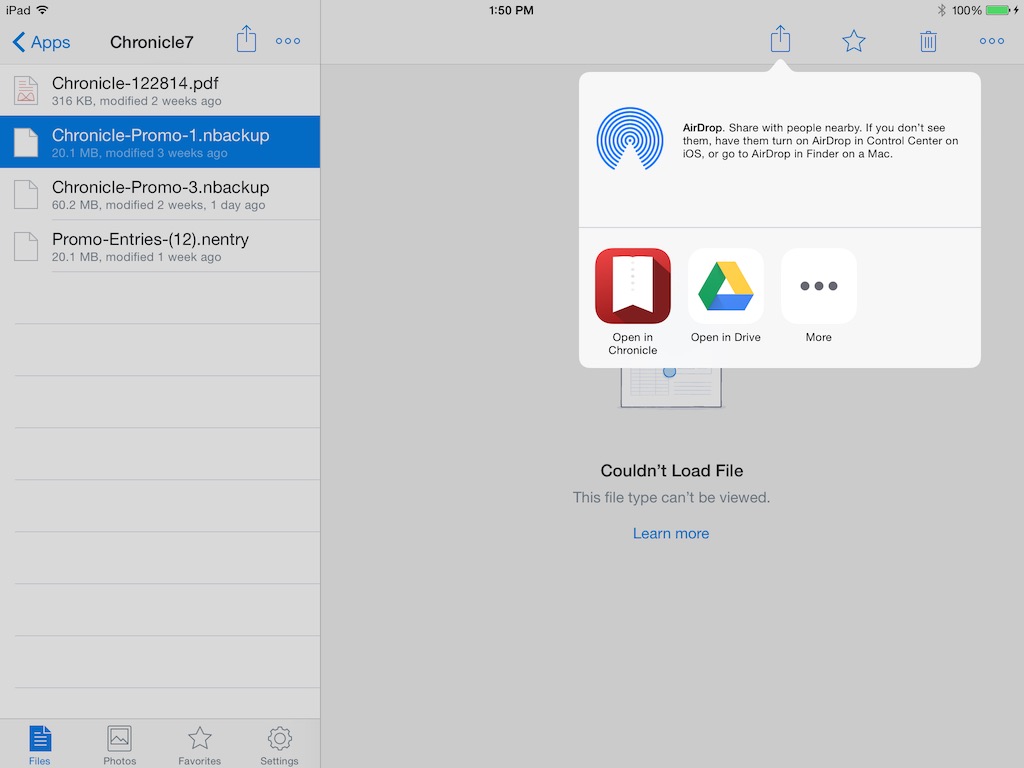 The screenshot above shows me opening a backup file using the Dropbox iPad app.
If you email yourself a backup file, you can press-hold on the file attachment and select "Open In..." from the Mail app.
Importing Classic .backup Files
If you've used Chronicle for years, you probably have some old backups ending with the .backup file extension. Chapters for iPad also generates the same backup file format and you may have some of those.
To import these, the steps are the same as those outlined above. Open the file from another app, such as Dropbox, or email it to yourself and use "Open In..." on the file attachment.
Recovering From Data Loss
Keeping your writing safe is the most important job of a journaling app. As its developer, I strive to test any changes related to Chronicle's data storage thoroughly. As iOS grows in complexity and Apple releases more devices, it's harder to anticipate everything that can go wrong. Creating backups within Chronicle is your first line of defense. These files are easy to import and contain all of your writing and photos.
If you don't have any backups from the app (ie, .nentry, .nbackup, or .backup files), you can try restoring from your most recent iTunes or iCloud sync backup. Learn more about restoring a previous backup.