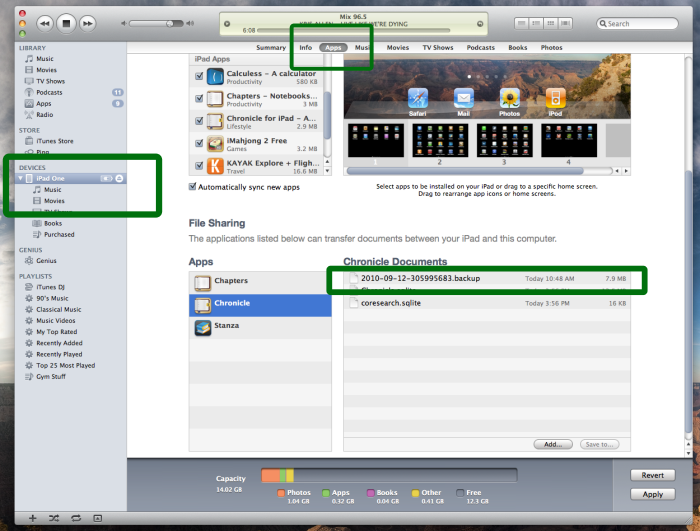 Chapters, Chronicle for iPad, and Chronicle for iPhone can create backup files with a .backup extension. These files are generated on your device. You can access them by connecting to iTunes and using the File Sharing feature.
You can copy the .backup files to your computer and archive them. You can also rename them if you want.
If, one day, you lose your data you can copy your old .backup file to your device and import it.
You can also use the backup and import feature to move notes from your iPhone to your iPad!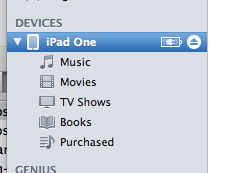 Connect your device and open iTunes
Select your device on the left to view its properties.

Select the Apps tab in iTunes
Scroll all the way down to the File Sharing section after you click it.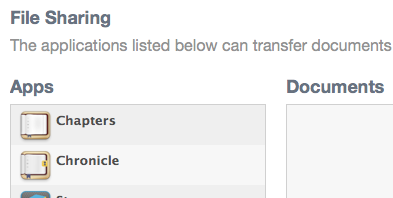 Pick the app you're using
Select the app whose files you want to access.
If you own both Chapters and Chronicle, you can copy backup files between the two apps. This allows you to import everything you've written in Chronicle into a new or existing Chapters notebook, for example.

Copy the backup file to or from the device
You can drag files to your desktop. You can also use the Add and Save To buttons.
If you want to import an older backup file, copy it to your device and use the import feature found within the app. The app will look for any .backup files, so it doesn't matter if you renamed the file at some point.
You will also see your most recent PDF files here. If you export your journal as a website, the directory containing the HTML files will also be listed.